Where to Find The Best Schnitzels in Vienna
Where to Find The Best Schnitzels in Vienna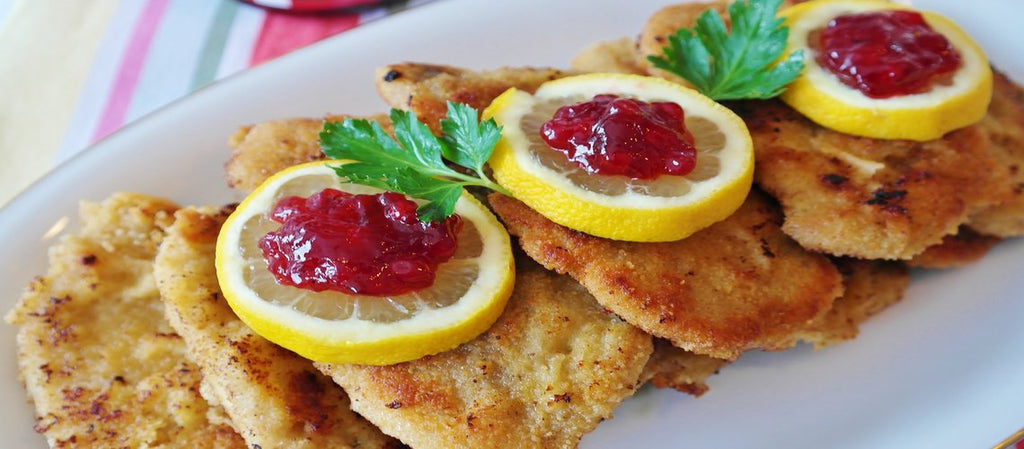 One of Vienna's most iconic emblems, schnitzel is the city's signature dish, made from a cutlet of meat (traditionally veal) dredged in beaten eggs, seasoned flour and delicate breadcrumbs then fried until crispy, golden brown. It's every bit as delicious as it sounds and is something everyone should try when in Austria's capital. But not all schnitzels are made equal. So to save your taste buds from experiencing disappointment, we're revealing where to find the best schnitzels in Vienna.
Where to find the best schnitzels in Vienna
Schnitzelwirt
Schnitzelwirt is a quintessentially Austrian restaurant that's been serving up traditional wiener schnitzel to hungry diners for over 35 years. The signature item comes in many different forms, from the typical veal wiener schnitzel to the creative schnitzel a la Mexico, stuffed with paprika, mushrooms and ham. The dishes are surprisingly cheap and since most of the schnitzels are literally larger than the plate they're served on, you can easily share one between two diners, making Schnitzelwirt super value for money. The owners of the establishment recently passed the restaurant down to their two daughters who are following in the footsteps of their parents and delivering the same well-loved recipe that's kept the place a favourite amongst locals and visitors for decades.
Cafe Anzengruber
One of the more obscure eateries on this list of the places to find the best schnitzel in Vienna, Cafe Anzengruber is located on a busy street surrounded by many shops and galleries, making it an excellent location to relax and people watch. Still run by the family who opened the cafe years ago, this restaurant serves a small local menu, the highlight of which is the pork schnitzel. Deliciously tender and juicy on the inside, while being fantastically crunchy and golden on the outside, you can enjoy this schnitzel with a side of traditional Austrian potato salad, a fresh green salad or thinly sliced fried potatoes.
Figlmüller
For an authentic Viennese special served in an atmosphere rooted in tradition, order the wiener schnitzel at Figlmüller. The restaurant claims that 1905 was "the year the schnitzel was born", when Johann Figlmüller launched his first restaurant mere streets away from St Stephen's Cathedral. Their house speciality is their Figlmüller-Schnitzel made from pork which they've been making according to the same recipe for more than a century. What makes a Figlmüller stand out above the others is that the "imperial breadcrumbs" are made from Kaiser rolls. Enjoy this classic along with potato salad with Styrian pumpkin seed oil for a truly traditional Austrian dish or a small mixed salad for a lighter alternative.
Skopik & Lohn
One of the hottest restaurants in the city amongst discerning foodies, Skopik & Lohn expertly blends fine dining elegance with a chilled out 1920s bistro vibe. Although it was originally intended to open up in New York City, the trendy restaurant instead found an equally suitable home in the artsy Karmelitermarkt. With contemporary delights such as monk fish with coconut-cardamom beurre blanc, the menu is just as stylish as the interior design. But despite the creative options, the traditional veal wiener schnitzel served with a classic potato and cucumber salad is without a doubt the star of the show.
Salzamt
Self-described as the starting point for the Viennese nightlife scene in the city's Bermuda Triangle, Salzamt is located opposite Vienna's oldest church and serves a tempting selection of Viennese specialities. Although the menu changes on a daily basis, according to the availability of local produce, one item consistently available is the veal wiener schnitzel served with the typical potato salad and greens. Wonderfully succulent, fantastically crispy and expertly seasoned, this schnitzel is pure Vienna in every bite. For an even more local experience, enjoy the dish with a cool Viennese pils beer or Austrian wine from Kamptal.
Gasthaus Kopp
A quaint and quirky restaurant where everyone is treated like family as soon as they walk through the door, Gasthaus Kopp serves giant schnitzels big enough to feed a ravenous family. The menu is only available in German and dishes are changed on a daily basis to keep things interesting. But not to worry, the staff are more than happy to translate for you if you're unsure what to order — although the "wiener schnitzel" is instantly recognisable and highly recommended. Even though the food is truly superb, what makes Gasthaus Kopp one-of-a-kind is its decoration, covered in random souvenirs collected from holiday kiosks and flea markets from all over Austria.
Café Rüdigerhof
Dating back over 100 years, Café Rüdigerhof is a part-coffeehouse part-restaurant that's incredibly popular with the older crowd. Filled with happy diners sipping Viennese coffee and playing cards to pass the time, this restaurant is a real blast from the past in the best way possible. The signature pork schnitzel served here is delectably light and crisp, thanks to it being fried in lard instead of the usual oil. If you're keen to go down the more traditional route, you can also order the classic veal wiener schnitzel, which is every bit as good as the pork variety.
Plachutta
Boasting restaurants at five individual locations spread across the city, Plachutta is well-known for the tremendous quality of its meat. And while you're guaranteed an exceptional meal at any of its restaurants, the best wiener schnitzel is found at the Walfischgasse location, in the Plachutta Gasthaus Zur Oper restaurant. Their traditional veal wiener schnitzel is made using the finest veal cutlets available, coated in light, delicate breadcrumbs and deep-fried in oil until it reaches crispy, golden perfection. Since its located just steps away from the State Opera House, Plachutta is the perfect place for a pre- or post-opera mea
Book your accomodation in Vienna